Note:This piece is Under Construction and may change shape, form, and content over time...At first I thought it was complete but as time passes I find that I'm not entirely happy with it...It hasn't yet stumbled upon its paces but we'll get there eventually...12/30/14
~La Politrixie
__________________________________________________
I'm often asked what is the meaning of "Politrixie" as a term, what precisely defines a Political Mistress. And I have been waiting for the divine spirit of Inspiration to provide the very best, most illuminating form of expression. In short I've meant -from Day One- to provide my readers with a manifesto to proclaim who am I, Politrixie and what makes this blog different from any other. Finally I feel that I can present a statement that says it all...this one is quite special. However this is not the FINAL version; I sense that I may be working on and living with this piece for some time to come. But as it stands now on New Year's Eve Eve of 2014-2015 I can say this is the very
first draft
which is kinda special as well. Gotta start somewhere when you be easing on down that road. So it begins ;)
Artist: Adrienne
The Political Mistress Manifesto: Declaration of Politrixie
holla if ya heard me
if you were me
serving all the wrong masters
other than thee
mamon captured all your time
and its quality
you worshipped in the front row
at the alters of all the vanities
though in your dreams
you would have danced
nude and free and wild
would have been the phoenix and the fire
singing the song of your secret name
while the flames licked & whipped higher
Now there can be no more excuses
no shoulda coulda woulda
shall continue to fuel
any further of your delusions
yes, remove the whiteface --
(feel the heartbeat
--and again a little stronger)
falling away, the weakness
(cooning for cash ceases)
stop pretending to be free
(the whole ugly damned truth:
you was massa's puppet in entirety)
--and you can feel the silence. Can't you.
thicker than the air
Look at all the curious faces
as they stop to look and stare
What is behind this new face that we see??
Whence comes, of a sudden, this enigma?
Who is she of this feminine mystique?
Indeed, they have not witnessed thee
Never once in your true form
and prior to this day
you
never flew aloft before
not til the moment when you finally swore
to rock your true colors loudly
to live to serve your own truth proudly
because the way you were living
at least admit to yourself
that it wasn't successful but it was full cowardly
as a mere shadow, as just a shade
you had bought all the way up into the game
(like, as if you was the oligarch, the most highly paid!)
did not comprehend nor contemplate
the con that you willingly gamed
by which you were grievously played
too busy sip-sipping from the sterling magnum
drunk and clutching that champagne glass
oh, that ill- ass kool aid!!
glass after glass, you drank and drank...
you poor soul
you lost girl
;(did he call you his sweet thang?):
chile, I saw you:
a mess and a-whirl
the kool-aid had you booty-shake dancing
sangin' Beyonce's
Crazy in Love
that was never me, said thee
upon witnessing the spectacle
an out of body view of oneself
--out of integrity
--entirely outside self-respectablity
and the fear calling the shots
when you smiled and declared
''yass suh it was tasty fo'real them scraps of meal
you was so good to share!"
At long last the command and
the alchemy to bring forth
the intrinsic and distinctive entity of Me
I had to walk through the fire
in order to pass the test
And I am now so much more
This now is my space, this is my position
I am here for my ownself,
to champion my worthy Cause
if not me, who else would bother?
I am my own soul's mistress
I may grieve
but I do not regret
evermore I must be my own truth
evermore I have gone rogue, cut loose
I am the creature of no other
my quest hath discovered the One Teacher
an astral romance that showed me who I am
my former blindness is my shame:
to love one's bondage is ignorance
so melancholy: a pride in so wretched a loss
of agency,
venom
claws
and Cause
sterilized,
de-fanged,
figuratively spayed
to be made harmless with no choice yea or nay
Pity upon those who imagine empowerment
devoid of individuality
by massa pathetically tamed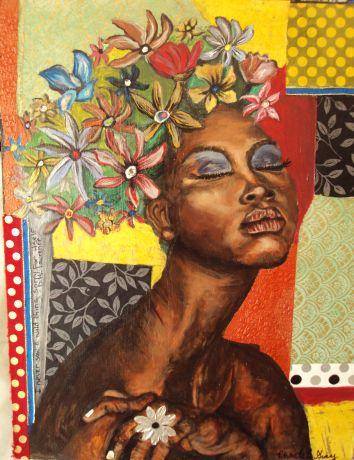 Dreams of a Wildflower by Rhonda Gray
the beauty of freedom
is like the depths of the sea
the expanse of the universe
vast extant
constant
ever incomplete
metmorphosis of my center
now I, too, am in sync
in this life,
and this breath,
I know that I am blessed
I have abandoned
my past of slavery
to material illusion and indecision
Now my desires
& my ambitions
co- exist and intersect
with eternal intentions
written within the map of the dusty stars
crafted by Thee
who consists of Spirit and Divinity
I, like space & time, am joyful to know
that my journey has been Your own plan
so I glory in my sorrows,
as well my mistakes
for they have been the making of
my super-powers and strength
as I meditate upon the journey
I see it all depended upon my falling down
in order to witness space & time overhead
the celestial suspension
a summons of the sublime
with the purpose of tempting to the heavens
and teaching me flight
though I did not know then
of the wings that are mine
until I was cast
upon the ground
and forced to consider my plight
which became full of wonder
extinguished my fear of dark and night
Here at the last let me mention
For the sake of myself and my mission
Do not speak. Only listen:
It was my choice to break away
my fortune
by Grace
to leave, to escape
a material reality populated by petty
thoughts & desires & enmities
inside a prison self-made
************
if you hear me
if you be me
if you can appreciate the difference
between
seeming
and
being
to realize your purpose
to rise upward
to transition
to learn to take flight
to use the wings you are given
fear not
doubt not
your journey is promised
it is explicitly written
go now walk with the wise